When we think of guitar impulse responses, we often think about digital snapshots of an acoustic space which can include the speaker type, cabinet type, room type, and mic type and position. These snapshots are stored digitally as WAV files so they can later be recalled and used in recordings via IR loaders or in live settings via IR-capable pedals or amps. Acoustic guitar impulse responses are very similar to standard IRs!
However, instead of a cabinet, speaker, room, etc., acoustic impulse responses are captures of specific acoustic guitars, pickups, and mics. With acoustic IRs, you can turn your DI electric or acoustic guitar into a specific (i.e., better-sounding) acoustic guitar with a specific pickup or mic configuration.
READ MORE: Learn more about impulse responses with our best impulse responses post.
I know what you're thinking and the answer is yes—you can have your mid-range Yamaha acoustic sound like a top-of-the-line Martin by using acoustic impulse responses! Keep reading to learn more about where to find the best free and paid acoustic IRs.
As with all other impulse responses, acoustic IRs will need to be loaded in your DAW via an IR Loader or in an IR-capable pedal to be used. Check out our article on IR loaders for more info.
Best Paid Acoustic Impulse Responses
3 Sigma Audio Acoustic IRs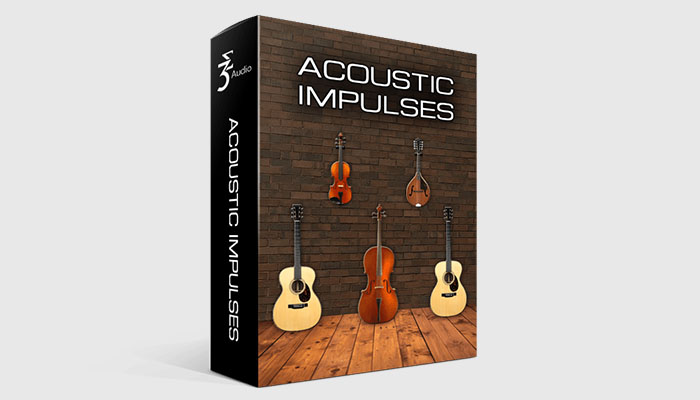 3 Sigma Audio has created the world's first acoustic impulse response library. They offer 15 mix-ready acoustic IRs captured with their proprietary ACE Technology. With their acoustic IRs, you can transfer your DI guitar into a variety of top of the line acoustic guitars like the Martin D45, Gibson Hummingbird, Takamine P2DC, Taylor 610ce and more!
3 Sigma Audio's acoustic IRs are incredibly affordable at $15 per impulse response pack. Each pack contains several WAV IR files with different pickup configurations, manuals and more information, and even .KIPR and Axe-FX Wavs for you Kemper and Axe-Fx owners!
Worship Tutorials Acoustic Guitar Impulse Responses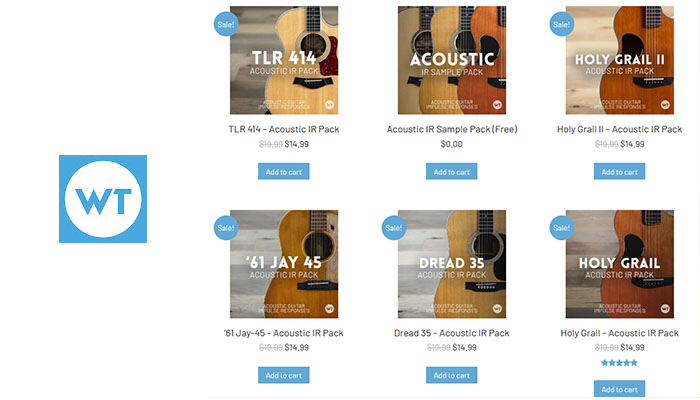 The team over at Worship Tutorials have captured some high-quality acoustic impulse responses based on some world-class acoustic guitars you know and love. Choose from a selection of IR packs based on guitars like the Taylor 414, Gibson J45, and the Martin D-35. Their IR packs are cross-platform with proprietary files for Axe-FX, Kemper, and Line 6 Helix included in every pack.
Each pack features multiple IRs with varying microphone options and acoustic pickup types. Choose from microphones like the Shure SM57, Sony C800, and the Telefunken TF47, among others. Pickups range from LR Baggs Anthem to the Fishman Plex, from Taylor's Expression System to Takamine AD-1 Piezo System. These packs can be used to mix and match multiple acoustic impulse responses with a multi-channel IR loader like SpeakerMix Pro to dial in your unique acoustic tone!
Check out their videos for each pack so you can hear before and after! There's also a free sample pack, so you can get a taste of that acoustic impulse response goodness before buying.
Selah Sounds Acoustic IRs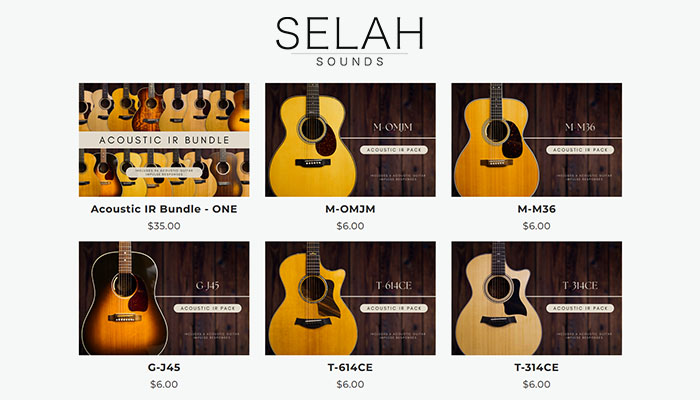 Selah Sounds was launched by Alex Toney and Hendrik Bisschoff as a tone-focused projected created for guitarists, by guitarists. They offer an impressive library of acoustic guitar impulse responses based on some of the best and top-quality acoustic guitars available today like the Taylor 314ce, Taylor K22ce Koa Grand Concert, Martin D-12E, and the Duncan Africa OM-SR.
Each acoustic guitar impulse response offered by Selah Sounds features three different options: Normal, Smooth, and Deluxe. The Normal IR option was captured with no signal processing; Smooth features dynamics captured with many different pickup configurations; and Deluxe incorporates subtle room reverb to add a more full and spacious sound.
Selah Sounds impulse responses are also captured using a variety of acoustic pickups. Some of these pickup configurations include the LR Baggs Anthem pickup, Taylor ES2 pickup, and Fishman Matrix pickup. Royer R101 and CM414 microphones were used to capture the natural acoustic sound of each individual guitar. Check out their inexpensive IR bundle pack for an all-in-one solution or use the button below to browse their individual acoustic IR packs.
Live Play Rock's Acoustic IR Packs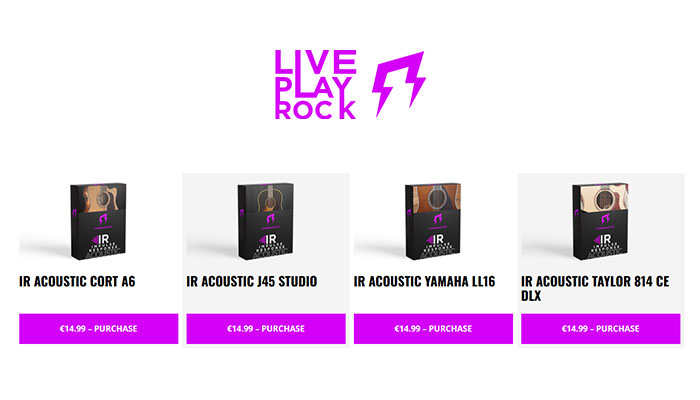 LivePlayRock.com features an impressive lineup of impulse response packs including a handful of amazing acoustic IR packs. With packs that are based on acoustic guitars from brands like Yamaha, Taylor, and Gibson, LivePlayRock offers just what you need to find that specific acoustic tone.
Each acoustic IR pack includes up to 13+ WAV files captured with specific brand acoustic pickups (i.e., Taylor ES2, SRT Piezo, etc.) or custom-installed Fishman electronics.
LivePlayRock offers the following acoustic IR packs:
In addition to their impressive acoustic IR packs, LivePlayRock also includes a great selection of products tailored to modelers by Kemper, Fractal Audio, Line 6, Mooer, and Headrush.
Best Free Acoustic Impulse Responses
Acousticir.free.fr Database: 100+ Acoustic IRs!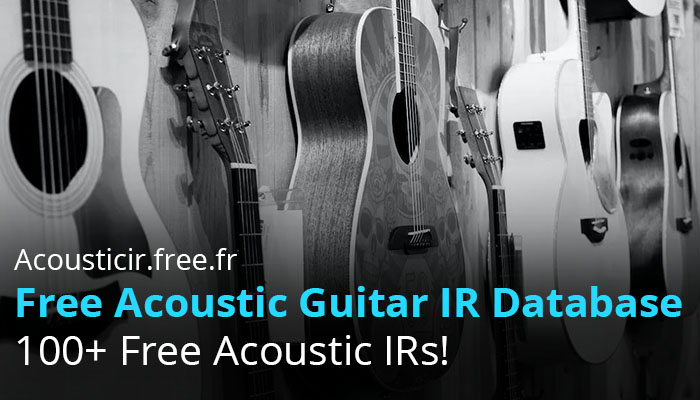 Acousticir.free.fr is a website dedicated specifically to acoustic guitars and IRs. This gigantic acoustic IR database was created by Jon Fields and Kien Phan Huy. The site is also chock full of learning materials with instructional videos and articles centered around IRs. They even detail the process of how to make your own acoustic guitar impulse responses!
But most importantly, Acousticir.free.fr offers 131 free acoustic guitar IRs! They have a huge database of guitars that have been captured with pickups like the Fishman Matrix or the Schatten HFN. The database includes IRs based on favorites like the:
Pro-tip: Acousticir.free.fr's database search can be wonky, so make sure you read all the instructions. The easiest and fastest way to find a specific guitar is to check only the brand of guitar (i.e., Gibson, Martin, Taylor, etc.) and then click search to narrow down the list for easier and faster browsing.
Worship Tutorials Free IR Sample Pack
We've already covered Worship Tutorials amazing acoustic impulse responses in our best paid IRs section, but they do offer a free sample pack! This is a fast and free way to try out their IRs and it's highly recommended for anyone who's just getting started and wants to try them out. The sample IRs contain all the pickup options from the full packs.
Their free sample pack includes IRs based on the following acoustic guitars:
Martin D35
McPherson Camrielle
and Taylor 816
Conclusion
There you have it—the complete rundown on where to find the best acoustic guitar impulse responses—free and paid! With these suggestions, we hope you're able to find the perfect acoustic tone you're looking for without shelling out thousands of dollars for a high-quality guitar.
Read More: Pair your acoustic impulse responses with reverb, delay, or chorus found in one of the many amazing amp sims!
Did we forget something from our list or have a recommendation? Head over to our Contact page and send us a message to let us know!
Acoustic Guitar IRs FAQs
What is an acoustic guitar impulse response?
An acoustic guitar response is a digital snapshot of a specific guitar, mic configuration, and/or pickup configuration that is stored in a .WAV file. These files can be loaded using an IR loader or an IR-capable pedal.
With acoustic guitar impulse responses, you can turn your mid-grade Ibanez into a top-of-the-line Taylor or Martin. Check out our list of best paid and best free acoustic guitar responses for more info.
What's the difference between acoustic guitar impulse responses and regular impulse responses?
Typical guitar impulse responses are digital captures of specific cabs, speakers, microphones, and rooms. Acoustic guitar IRs are digital snapshots of specific types of acoustic guitars, pickups, and/or mics used. Acoustic impulse responses let you turn any DI-recorded guitar into specific, world-renown guitars by Martin, Taylor, Gibson, etc.