Virtual guitar amp sims are a great way to record guitar at home without breaking the bank. Most of us can't afford multiple tube amps (or cabinets) nor do we have the space to keep them in a home studio. So, the next best thing is to find a virtual guitar amp plugin so you can dial in your tones cheaply and digitally (talk about a space saver!). You can even pair your virtual amp sim with a few of the best guitar impulse responses or the best bass impulse responses to dial in a tone that's perfect for the sound you're looking for!
From the new to the old, the paid to the free, we'll take a look at some of the best amp sims that are available in 2023! But first, we'll dive into what virtual guitar amp simulator plugin VSTs (virtual studio technology) actually are.
What is a Virtual Guitar Amp Sim?
Virtual guitar amp simulators, amp sims, and amplifier VSTs are all the same thing–software that emulates (or simulates) real-life guitar amplifiers. From Fender Twin to Mesa Boogie, you can find digital guitar amp simulators for just about every single physical amp that you've come across. And you may not know it, but a lot of famous musicians actually use amp simulators in lieu of physical amps in the studio and during live shows!
For the home studio beginner or seasoned veteran, amp sims are simply a cheap and easy way to get that tone you're looking for without shelling over thousands for an actual physical amplifier or going through the complicated process of micing an amp.
In this guide, we'll take a look at some of the best paid and free virtual guitar amp sims that are available in 2023.
Best Virtual Guitar Amp Sims VSTs (Paid)
Amplitube 5 by IK Multimedia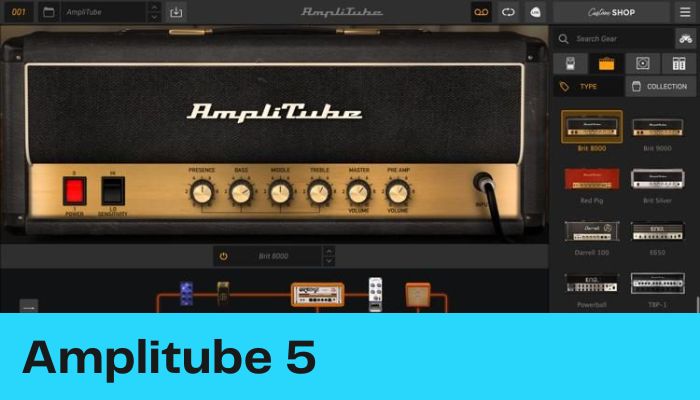 We can't talk about amp sims without mentioning Amplitube. Amplitube 5 by IK Multimedia is one of the OGs of amp simulation and continues to be one of the most widely used and continually updated VSTs.
Amplitube is a full virtual guitar rig covering the entire signal chain including amps, cabinets, speakers, mics, pedals, and effects. Imagine getting access to a digital library of countless guitar rigs all available right on your laptop… that's exactly what Amplitube 5 is known for.
Amplitube 5 Features
Volumetric Impulse Response (VIR) technology that lets you fully customize speakers, microphones and their positioning, and room.
100 recaptured cabinets.
Mixer with built-in effects and the ability to mix multiple cabinets, mics, and direct input.
Drag and drop signal chain with up to 57 simultaneous models and series/parallel routing.
Access to ToneNet—a free preset-sharing community for Amplitube users!
Impressive partner roster with digital recreations of world-class amps from Fender, MESA BOOGIE, Orange, Leslie, and more.
Digital rig and tone recreations for artists like Joe Satriani, Slash, Brian May, and more.
Protip: Use some of Amplitube's built-in presets for quick and easy tones. We've found that these default tones often sound better than some of the additional 'add-on' sounds created by outside vendors. You can also utilize custom impulse responses with Amplitube's IR Loader to further fine-tune and personalize your tone.
Looking for the best bass guitar VSTs? Check out our article and explore free and paid bass virtual instruments!
Helix Native by Line 6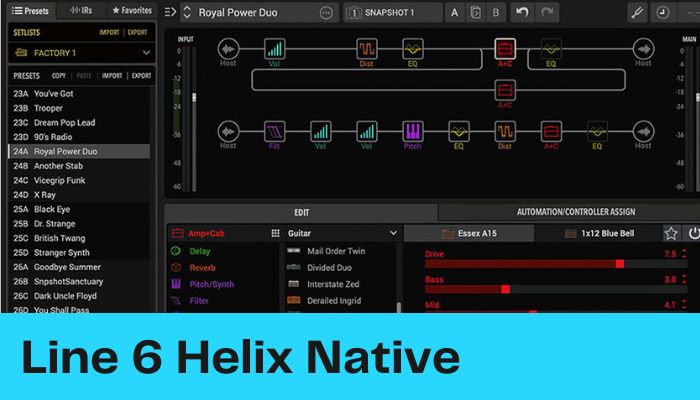 Line 6 has been part of the amp modeling scene for 20+ years! The Pod processor was one of the original, game-changers in modeling technology and has been an integral part in pushing the technology forward. So, it's safe to say that Line 6 knows a little bit about amp modeling and simulation!
Line 6's Helix Native is the plugin-only, software version of their Helix modeling family. They also offer hardware versions in the form of stomp boxes, floor models, rack models, and multi-effects pedals using the same modeling technology.
Helix Native features authentic modern and classic amp recreations with over 300 authentic amp, cab, mic, and effect models. It's also a full suite where you can fully customize sounds whether you're a studio engineer, music producer, bedroom guitarist, or electronic artist.
Helix Native Features
Easily transfer presets between software and Helix hardware.
Intuitive and easy-to-use user interface.
Supports third-party impulse responses.
Not just useful for the guitar; it can also process any instrument or voice.
Snapshots feature lets you store up to 8 variations of any preset and switch between them on the fly.
Can be used as a standalone app or within a DAW in plugin format.
Guitar Rig 6 Pro by Native Instruments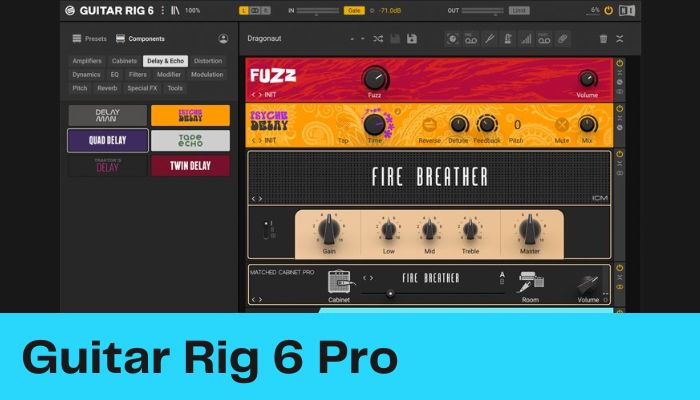 Guitar Rig 6 Pro is an impressive software multi-effects and guitar amp simulator. The initial Guitar Rig was first released by Native Instruments all the way back in 2004. Guitar Rig 6 is the most recent iteration of this impressive guitar amp simulator.
Guitar Rig 6 Pro features an all-new updated user interface and boasts the new Intelligent Circuit Modeling (ICM) created by Native Instruments. ICM utilizes machine-learning technology to produce ultra-realistic modeling of physical amps.
When creating a digital guitar rig, ease of use and intuitiveness are always important. Guitar Rig's intuitive drag-and-drop interface makes swapping effects and cabinets easy, so you're not wasting time fumbling around in a clunky UI and can quickly create your rig from the ground up.
Guitar Rig 6 Pro Features
Utilizes machine-learning technology to accurately model physical guitar amps.
An updated list of included effects like distortion, saturation, compression, reverb, and more.
Includes artist presets from an array of impressive guitarists, bassists, and producers such as Pete Thorn, Vernon Reid, Yvette Young, and more!
Run multiple amps in parallel, switch up cabinets, or insert effects wherever you would like!
It can be used for other instruments besides guitar and bass including synths, resampling drums, and altering samples.
Features presets that shine out of the box.
Can be used with custom IRs.
App window can be resized globally and isn't constrained to specific dimensions.
Features a demo version that can be played for 30 minutes with the save and total recall functions disabled.
Neural DSP Plugins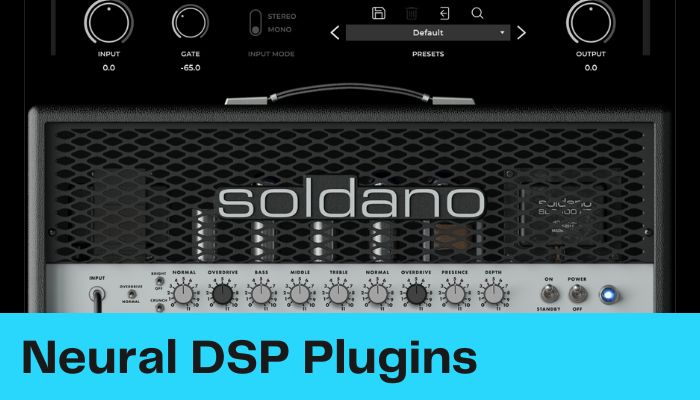 Neural DSP plugins are different than some of the previous all-encompassing virtual guitar amp sims we've discussed. They are standalone plugins that offer amp simulation and effects for specific rigs and rigs of artists including Tim Henson, John Petrucci, Cory Wong, and Nolly. The plugins are customizable with tons of options for effects with clean and distorted tones meaning you can start with an artist rig and create your own unique sound quickly and easily.
Each Neural DSP plugin has been modeled to the specific specs of the rig using their analog modeling technology. Neural DSP's proprietary anti-derivative trigonometric interpolation (ATI) algorithm allows them to use machine-learning techniques to model amps and effects with optimal CPU performance and usage.
Neural DSP Plugins Features
Choose digital rigs recreated from artists' actual physical rigs like Tim Henson, John Petrucci, and Nolly.
Machine-learning technology is used to create accurate digital recreations of amps, stomp boxes, and effects.
Individual plugins that are reasonably priced so you can pick and choose based on your preference of artist and/or tones.
Sleek and intuitive GUIs for easily switching effects, amps, and cabinets to craft your perfect tone.
A forward-thinking approach to digital amp simulation with an emphasis on modern tones based on popular artists' tones.
Offers 14-day free trials for all plugins!
S-Gear 2.9 by Scuffham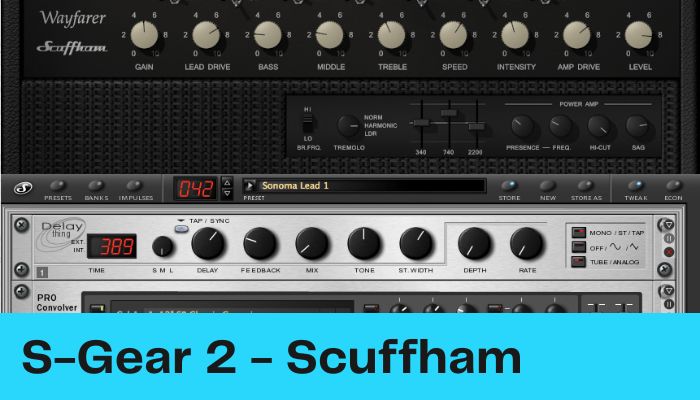 S-Gear exploded onto the virtual guitar amp simulator scene a mere ten years ago. The plugin creator, Mike Scuffham originally worked for Marshall as a product designer and was responsible for the often admired JMP-1 preamp. Scuffham's amps are touted as state-of-the-art, software guitar amplification that let you plug in your guitar to an audio interface and experience the tones of a high-quality tube amp. S-Gear is a boutique-style virtual amp sim that can be used as a standalone program or within a DAW.
S-Gear features 5 different amps which sound like a limited amount compared to some of the other virtual guitar amp VSTs. However, the five included amps are really all you need! The amps included offer versatility and customization so you can sculpt tones perfect for classic blues, '80s rock and metal, country, or jazz. Having only five amps means you can eliminate the analysis paralysis of a gigantic menu full of options and instead get to practicing, playing, and recording.
S-Gear Features
Often praised by amp sim users as the "most natural feeling amp sim."
Presets sound AMAZING directly out of the box.
Includes modulation, delay, and reverb effects with incredible versatility.
Features 5 amps that covered a wide variety of sounds and tones for quick and easy tone creation and selection.
Utilizes precision modeling that accurately reproduces compression, frequency response, and clipping of real tube amps.
Can be used as a standalone program for practice or for recording within a DAW.
Boutique-designed virtual guitar amps modeled after popular amps by Fender, Soldano, Marshall, and more!
Load custom IRs and use them with S-Gear amps and effects.
Easy-to-use interface with a flexible drag-and-drop effects rack.
Features a 10-day, full-featured trial!
UAD Virtual Amp Plugins by Universal Audio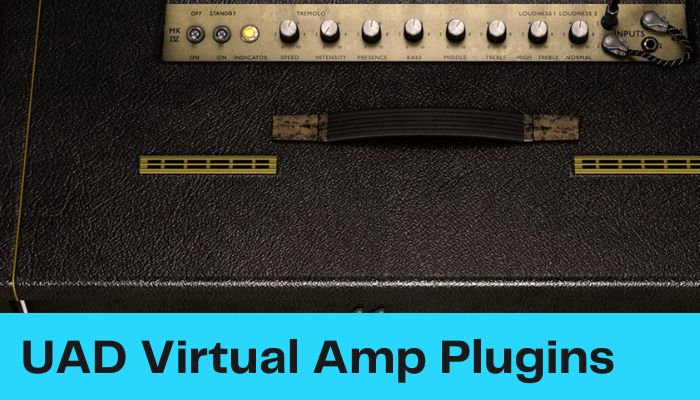 Universal Audio (UAD) has been around since 1958 are well-known for high-quality hardware modeling. They offered software solutions for over 20 years now! While amp simulators like Guitar Rig and Amplitube offer a library of amps, cabinets, and effects, UAD offers standalone plugins based on specific amps.
This individual approach means that UAD is hyper-focused on emulating the individual nuisances of each guitar amp. This has resulted in some of the most faithful recreations of popular amps available today and throughout history. If you know what tone or amp you're looking for (e.g., a Fender 55 Tweed), then rest assured that locating a virtual version from UAD will provide you with one of the best digital amp simulations available today.
NOTE: UAD plugins require guitar amp simulator hardware by Universal Audio. UAD virtual amp VSTs can only be used with one of their audio interfaces. While they have some of the most accurate and responsive guitar amp simulators, this requirement (and thus, cost) may not be feasible for some home recording enthusiasts. However, if you have the funds and are looking for some of the best software virtual amps available, then UAD is a great go-to option.
UAD Virtual Amps Features
Feature a huge variety of virtual amps co-created (and licensed) with popular brands like Fender, Ampex, Marshall, Korg, Moog, and more!
Plugins are developed to run on dedicated DSP chips used in UAD hardware. This means that the plugins will run flawlessly without potential hardware/software conflicts you may run into with other virtual amps.
Super-low latency and high performance of UAD plugins and hardware make recording tracks fast and easy.
Bias Amp 2 by Positive Grid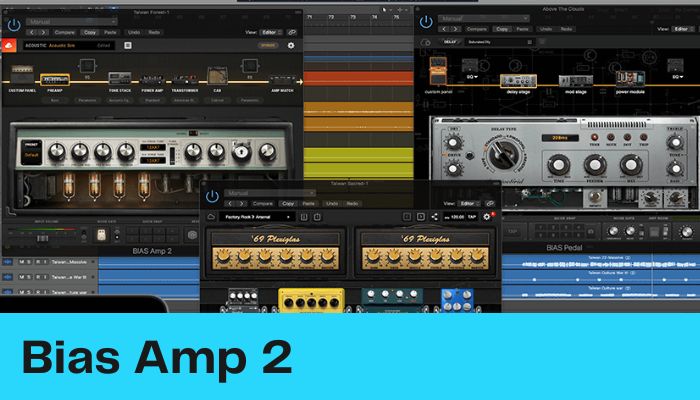 Bias Amp 2 is an advanced amp modeling software by Positive Grid. This powerful virtual guitar amp software features 36 virtual amps out of the box and nine built-in reverbs.
Bias Amp 2 gives you the ability to customize just about everything about your virtual guitar rig. This level of customization may be overwhelming to newbies but to veterans who like to tweak everything—this is a godsend! You can tweak tubes, transformers, preamp, tone stack, power amps, and more! However, newbies can just load up presets for quick and easy access to solid tones.
Positive Grid has also included a large variety of stock impulse responses. Customers who go with the Elite version will also get access to Celestion impulse responses, which are unrivaled in the world of IRs.
Bias Amp 2 Features
Access to virtual amps on the cloud with the ToneCloud community. Download custom virtual amps created by artists from around the world.
Realistic Amp Match V2 lets you accurately match the tone of any mic'd amp or audio file for complete recreation of physical amps.
Customize everything about your virtual rig including tubes, preamps, transformers, cabinets, mics, and more with an intuitive user interface.
Includes 36 virtual guitar amp models with emulations of classic amps like the Fender Twin, Vox AC30, and amps from Mesa Boogie and Soldano.
Includes a variety of stock impulse responses and Celestion impulse responses (Elite version only).
Destructor by Blue Cat Audio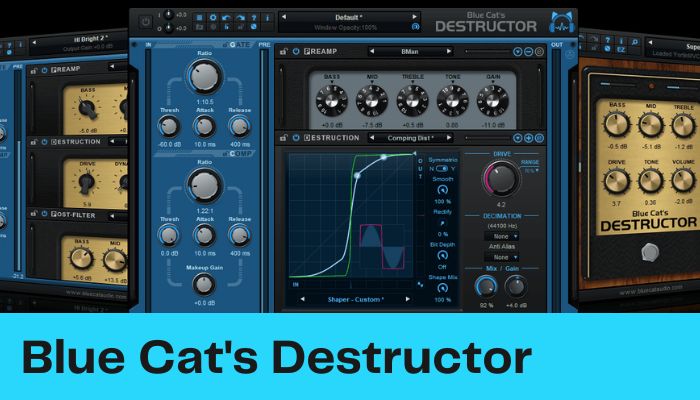 Blue Cat Audio's Destructor plugin is a distortion and virtual guitar amp modeling sim that can simulate everything from high gain and heavy distortion to crisp clean tones. For the price, it's a very powerful plugin that can be used in a variety of situations—including being a full guitar amp simulator but also as a way to fatten a mix or distort various other instruments like drums or synths.
Destructor's adaptive shaper is one area where this plugin really shines. With this feature, Destructor will react and adjust the sound to how you're playing your instrument (e.g., strumming softly on a guitar or fast, heavy palm muting) to simulate a natural feeling that is comparable to analog gear.
Destructor Features
Includes hundreds of presets and predefined models inspired by existing physical gear.
Fully editable parameters with a virtually unlimited number of distortion simulations.
Import reference curves to quickly match tones.
Can be used as a full virtual guitar amp simulator or to distort other instruments like drums, bass, synths, etc.
Also functions as a useful plugin for overdrive, bit-crushing, coloring, lo-fi, fuzz, clipping, and more!
Protip: Destructor includes a variety of available presets that are great without tweaks. Use these presets as a jumping-off point to sculpt your own tone!
Best Virtual Guitar Amp Sims VSTs (Free)
Amplitube 5 CS by IK Multimedia
We've discussed Amplitube in detail in the best, paid guitar amp sims section, but we'd be remiss to not mention the free version as it's one of the best free amp simulators. You won't have access to the numerous features in the paid version, but to start, Amplitube 5 CS features 42 pedals, amplifiers, speakers cabs, microphones, and rack effects. This is more than enough to get you started with amp sims and an excellent way to test the waters with Amplitube.
In addition to the free offerings, you can also try out gear from all AmpliTube collections which can then be purchased individually or in bundles.
View Amplitube 5 CS Official Site »
Guitar Rig Player 6 by Native Instruments
We've already discussed Guitar Rig 6 Pro in our best paid virtual guitar amp sims section and this is a stripped-down, free version of that plugin. Guitar Rig 6 Player features a variety of options directly from Guitar Rig 6 Pro with amp simulating, matched cabinet, 13 effects, and 50 presets.
This is an excellent way to test the waters with Guitar Rig 6 before going to the Pro version. With the easy-to-use drag-and-drop interface and a variety of built-in effects like delay, chorus, compression, and EQs, Guitar Rig Player 6 is an excellent, free way to experience virtual guitar amp simulation.
View Guitar Rig Player 6 Official Site »
Free Virtual Amp Pack by Lepou
Lepou offers several different guitar amp simulators that feature a variety of tones for various music styles. Each one has to be downloaded separately, but they offer unique tones based on physical amplifiers from Marshall, Mesa Boogie, Bogner, and others.
Unfortunately, the original website for Lepou is now defunct but multiple plugin sites and download mirrors are available. This also means that these plugins, while still functional, may end up with some compatibility issues with newer computers but they are still 100% free and absolutely worth checking out. Check out the Grebz Lepou Plugins page for more information, examples of amps, and downloads for Lepou virtual amps.
View Grebz Lepou Plugins Page »
Amp Designer by Logic Pro X
While this guitar amp simulator isn't exactly free, it is an included plugin with the paid versions of Logic Pro X. So, if you're a Logic Pro user, then you already have a nice included amp simulator within your DAW!
Amp Designer is a guitar amp sim that emulates 20 famous amplifiers and speaker cabinets. Amp Designer models are configured with an amp, cabinet, and EQ to emulate some of the classic guitar tones you're already familiar with. While the preset models are excellent to start with, you can make the most of Amp Designer by using it with a combination of other third-party plugins.
View Amp Designer Official Site »
TH3 Cakewalk Edition
TH3 Cakewalk is an included virtual guitar amp sim VST with Cakewalk by Bandlab which is a full-featured, and entirely free digital audio workstation (DAW). This high-quality amp modeling plugin features digital versions of amps, cabinets, microphones, and effects in an intuitive drag-and-drop interface.
TH3 features an improved DSP engine, more detailed impulse responses for cabinets and spaces, and Presets and Components flyout panels for easy navigation. With a wide variety of presets ranging from clean to high-gain, you have a multitude of options for plugging your guitar in and dialing in tones.
If you're looking to get started with a free DAW with a free virtual amp sim, I cannot recommend TH3 and Cakewalk by Bandlab enough. They're both completely free and are full-featured software that can be used right out of the box.
View Cakewalk by Bandlab Official Site »
Virtual Guitar Amp Sims FAQ